How people respond to medications can vary from person to person. For example, amitriptyline or codeine are not processed equally quickly by everyone. This is partly due to genetic variations, which affect how enzymes work. 
Yet people are generally prescribed the same starting dosage of a drug. Does a drug turn out not to work? Or do side effects occur? Usually only then is the dose adjusted. Or another drug is chosen.
However, with the DNA test iGene FARMA it is also possible to preventively identify the medications to which you are likely to react abnormally. Your personal pharmaco-profile also shows which enzymes play a role. 
In short: a comprehensive pharmacogenetic passport. With it, a doctor or pharmacist can immediately choose the right drug and dosage for you, based on the latest pharmacogenetic knowledge. 
Drug sensitivity
"Get the right medicine in the right dosage faster." 
An overview of your genetic sensitivity to many commonly used medications. A doctor or pharmacist can use this information to determine which drug is best for you, and more quickly arrive at the correct dosage. This can prevent medication errors and unnecessary side effects. 
Abacavir
Acenocoumarol
Amitriptyline
Aripiprazole
Atomoxetine
Atorvastatin
Azathioprine
Brexpiprazole
Capecitabine
Carbamazepine (Asians and EUR)
Celecoxib
Citalopram
Clomipramine
Clopidogrel
Codeine
Doxepin
Efavirenz
Eliglustat
Escitalopram
Fenprocoumon
Phenytoin
Flecainide
Flucloxacillin
Fluorouracil
Flurbiprofen
Haloperidol
Ibuprofen
Imipramine
Irinotecan
Lansoprazole
Lornoxicam
Meloxicam
Mercaptopurine
Methotrexate
Metoprolol
Mivacurium
Nortriptyline
Estrogen-containing contraceptives
Omeprazole
Oxcarbazepine
Pantoprazole
Paroxetine
PEG interferon and ribavirin
Pimozide
Piroxicam
Propafenone
Risperidone
Sertraline
Simvastatin
Siponimod
Succinylcholine
Tacrolimus
Tamoxifen
Tegafur
Tenoxicam
Tioguanine
Tramadol
Venlafaxine
Voriconazole
Warfarin
Zuclopentixol
Order immediately or give us a call!
Pharmaco-profile
"Information about your enzyme activity"
Comprehensive information on the enzymes that influence the activity and action of various medications, using an overview of your personal enzyme activity. You can easily share this profile with your doctor or pharmacist.
BChE enzyme
CYP1A2 enzyme
CYP2B6 enzyme
CYP2C19 enzyme
CYP2C9 enzyme
CYP2D6 enzyme
CYP3A4 enzyme
CYP3A5 enzyme
DPD enzyme
Factor V Leiden, F2, SERPINC1, PROC, PROS1
HLA-A*3101 / HLA-B*1502
HLA-B*5701
IL28B
MTHFR enzyme
NUDT15 / TPMT and thiopurines
NUDT15 enzyme
SLCO1B1 transporter protein
TPMT enzyme
UGT1A1 enzyme
VKORC1 / CYP2C9 and warfarin
VKORC1 enzyme
Personal characteristics
Alcohol hypersensitivity
Androgenetic alopecia (hair loss)
Bitter-flavor perception
Blood type
Caffeine Sensitivity 
Hereditary fructose intolerance (HFI)
Gluten intolerance (celiac disease)
Norovirus resistance
Lactose intolerance
Chance of red hair
Fast muscle fibers
Thrombophilia
Susceptibility to SARS (2003)
Hemochromatosis (iron accumulation)
Sensitivity to pain and stress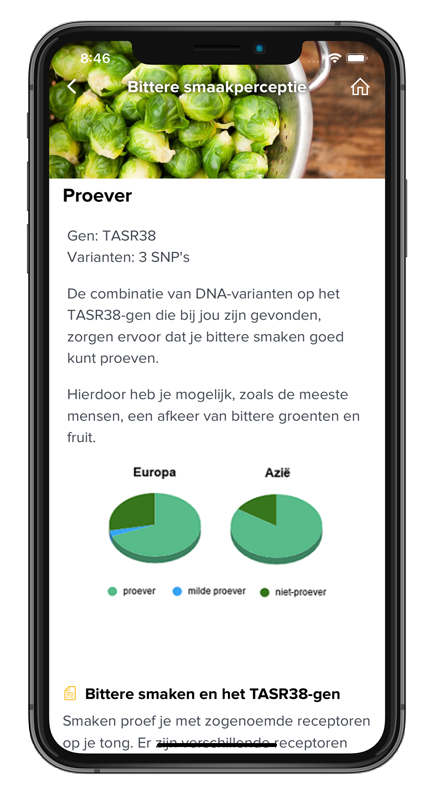 Consult
Understanding biochemical processes